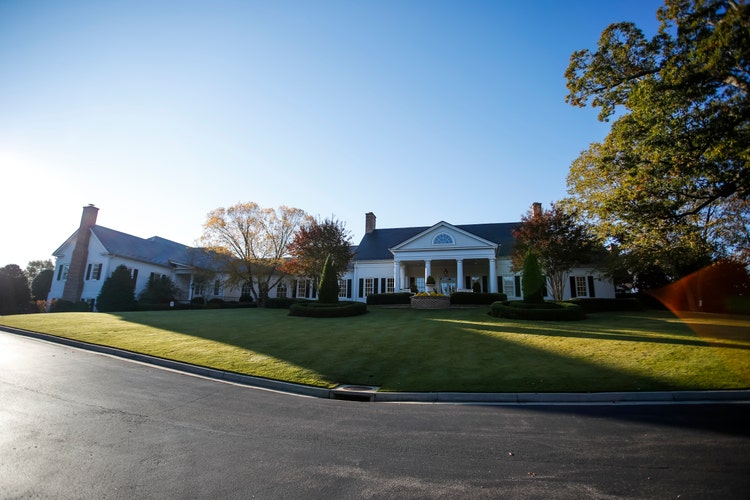 Security Policies
PROHIBITED ITEMS
NOTE: IF YOU DO HAVE A PROHIBITED ITEM, YOU WILL HAVE TO RETURN THE ITEM TO YOUR CAR OR DISCARD IT AT THE MAIN ENTRANCE. STORAGE WILL NOT BE AVAILABLE AT THE TOURNAMENT.
The PGA TOUR will continue its normal security policies but expand screenings for ALL patrons, sponsors, volunteers, media and vendors attending or working at all events. Since the safety and well-being of everyone is of the utmost importance, please note the following prohibited items:
• Bags larger than 6 x 6 x 6 in dimension.
• Clear bag larger than 12 x 6 x 12 in dimension. (CLICK HERE for full bag policy)
• Cameras or Video Cameras (allowed ONLY on Thursday, October 19)
• Folding chairs are allowed but please leave the bags at home. NO large folding chairs.
• Coolers
• Periscopes
• Radios, Signs, or Banners.
• Step ladders of any kind.
• Firearms, Explosives, or Knives.
CLICK HERE for full list of Prohibited Items.
NOTE: IF YOU DO HAVE A PROHIBITED ITEM YOU WILL BE REQUIRED TO RETURN IT TO YOUR CAR.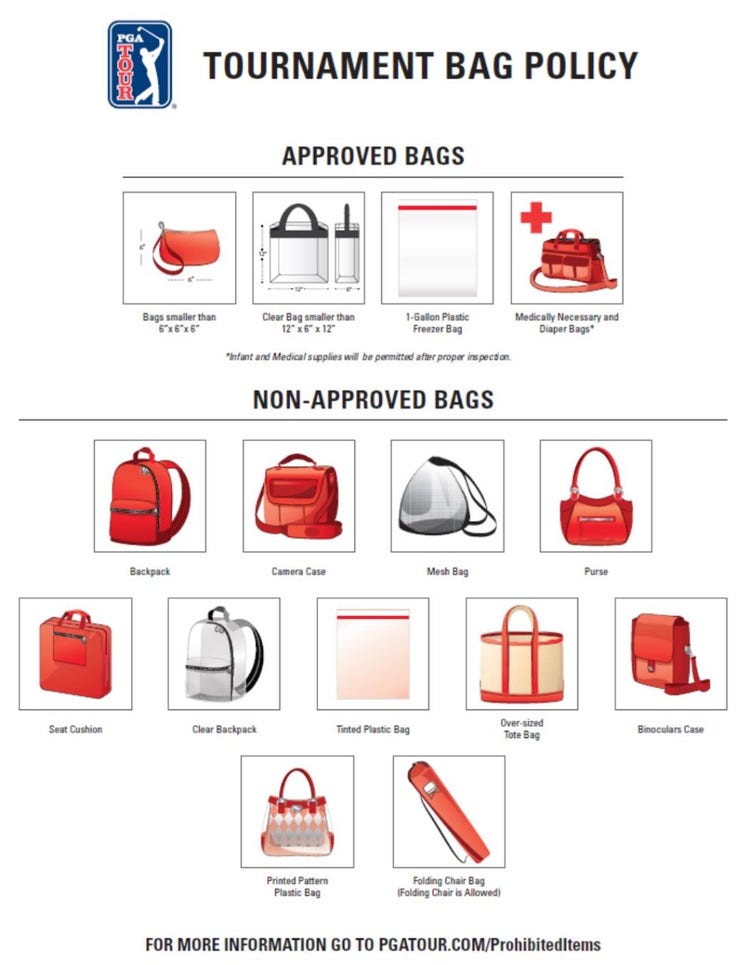 MOBILE DEVICE AND CELL PHONE POLICY - PLEASE READ CAREFULLY
• Devices must be on silent at all times; flash may not be used.
• Devices may be used to capture video, audio and photos (content) in all areas throughout tournament week.
• Content may be used for personal purposes (e.g., personal social media); no commercial use.
• No live streaming or real-time coverage (e.g., no shot-by-shot coverage).
• Data use (e.g., texting) is permitted in all areas throughout tournament week.
• Phone calls are allowed only in designated areas.
• Please be respectful of play and do not interfere with players, caddies or media.
• All posted signage and instructions from tournament staff must be observed.
• Failure to comply with this policy may result in the revocation of your ticket.

Please see the back of your ticket for the complete terms of the Spectator Mobile Device Policy. The ticket back language is also located here: www.pgatour.com/ticketterms.