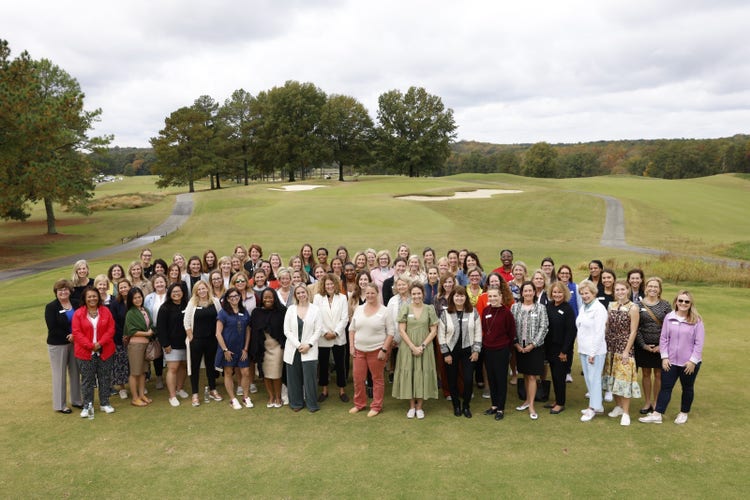 Three-time Olympic Soccer Gold medalist and World Cup Champion Heather O'Reilly to headline Executive Women's Day
Cherry Bekaert signs on as Presenting Sponsor for 2023
RICHMOND, Virginia – Heather O'Reilly, a three-time Olympic Soccer Gold medalist and Women's World Cup Champion, will serve as the luncheon keynote during Executive Women's Day at this year's Dominion Energy Charity Classic.
Professional women from across the Richmond region will gather at The Country Club of Virginia, James River Course on October 16 for the sold-out event, which is presented by Cherry Bekaert. Held during Dominion Energy Charity Classic tournament week, Executive Women's Day generates and strengthens business and social relationships by providing an exclusive and engaging environment for like-minded professional women. The day-long networking event focuses on topics such as corporate leadership, network expansion and philanthropy — using a professional golf event as a business and relationship builder. The theme for the 2023 event is "Leveling the Playing Field," with guest speakers from various industries each centering their remarks on equal pay for women. The luncheon is presented by Harris Williams and will be moderated by Richard Coughlan, Associate Professor of Management at the University of Richmond Robins School of Business and host of its C-Suite Conversations speaker program.
In addition to O'Reilly's participation as the luncheon keynote, this year's P ower Panel Breakfast presented by Stoever & Palmore Investment Group will feature:
Lori Zukin, Ph.D., Chief Executive Officer and Founder, Zukin Leadership
Lindsey McCarty, Chief People and Culture Officer, Cherry Bekaert
Allison Keller, Chief Administrative Officer, PGA TOUR
Reba Hollingsworth, Co-Anchor of CBS6 This Morning, as the panel moderator
"I applaud the Dominion Energy Charity Classic for hosting their Executive Women's Day program and addressing the equal pay topic," said Heather O'Reilly. "I am looking forward to interacting with the guests and sharing my experiences with the Richmond audience."
The day also includes a networking session as well as a behind the scenes tour of the tournament operation.
"We are excited to bring back Executive Women's Day and use the tournament and golf as a way to connect women leaders and help them learn and build new relationships," says Kali Edsall, Manager of Tournament Services at the Dominion Energy Charity Classic. "We thank our sponsors whose missions reflect a commitment to leveling the playing field and for supporting Executive Women's Day and the tournament."