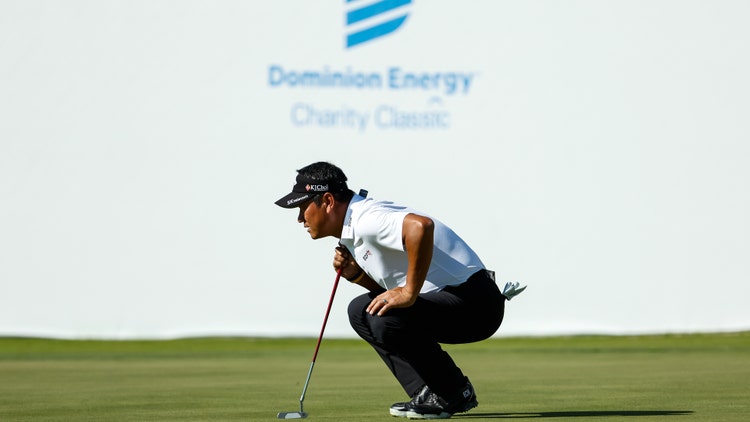 Field Set For 2023 Dominion Energy Charity Classic
RICHMOND, Virginia – With the conclusion of the 2023 PGA TOUR Champions regular season, the Charles Schwab Cup Playoffs begin this week with the Dominion Energy Charity Classic. The tournament will see a 67-player field competing October 20-22 at The Country Club of Virginia's James River Course in Richmond, Virginia.
"For the past seven years, the Dominion Energy Charity Classic has been a proud event in Charles Schwab Cup Playoffs, which serve to reward the top players for all of the hard work they have put in during the season," said Executive Director Steve Schoenfeld. "This year's field exemplifies the caliber of players that we are welcoming to Richmond this week. In this eighth year, we look forward to not only a very competitive golf tournament but one that also benefits the Virginia Veterans Services Foundation, Richmond Fisher House, Richmond Institute for Veterans Research and more than 150 additional local charities participating in the tournament's Birdies for Charity program presented by TowneBank."
The players set to tee it up this week in Richmond have combined to win 250 PGA TOUR events and 206 PGA TOUR Champions events. In addition, 13 players who have won a PGA TOUR major and 18 players who have won a PGA TOUR Champions major are among those playing in this year's Dominion Energy Charity Classic.
Current reigning Schwab Cup champion and defending DECC champion Steven Alker is joined by four other past champions as the event celebrates its eighth year: Charles Schwab Cup No. 10 Miguel Angel Jimenez (2019), Woody Austin (2018), Charles Schwab Cup No. 3. Bernhard Langer (2017) and Scott McCarron (2016).
Steve Stricker and Alker enter the week atop the standings at Nos. 1 and 2, respectively, while Langer sits third and Stephen Ames at fourth. David Toms (No. 5), World Golf Hall of Fame member Ernie Els (No. 6), Alex Cejka (No. 7), Jerry Kelly (No. 8), World Golf Hall of Fame inductee Padraig Harrington (No. 9) and Miguel Angel Jimenez (No. 10) round out the top-10 in the current standings.
The Dominion Energy Charity Classic is the first event in the three-tournament Charles Schwab Cup Playoffs. This week's event will see players competing with even more on the line, as each Playoff event provides double points ($1 = 2 points). At the conclusion of the tournament, the top 54 players in the Schwab Cup standings will advance to the second playoff event – the TimberTech Championship (Nov. 3-5) in Boca Raton, Florida. The top-36 players will advance to the season-ending Charles Schwab Cup Championship (Nov. 9-12) at Phoenix Country Club.
Since the inception of the Dominion Energy Charity Classic in 2016, the tournament has helped generated more than $9.3 million for charities in the local region. For additional tournament information or to purchase tickets for the 2023 event, please visit www.deccgolf.com.
All three rounds of the Dominion Energy Charity Classic will be televised on Golf Channel, airing from 2:00 p.m. - 5:00 p.m. (EDT), Friday through Sunday.
2023 Dominion Energy Charity Classic Field List (Alphabetical)
Alker, Steven
Ames, Stephen
Andrade, Billy
Appleby, Stuart
Atwal, Arjun
Austin, Woody
Bertsch, Shane
Branshaw, David
Broadhurst, Paul
Browne, Olin
Cejka, Alex
Choi, K.J.
Clarke, Darren
Dawson, Marco
Day, Glen
DiMarco, Chris
Duke, Ken
Dunlap, Scott
Durant, Joe
Duval, David
Els, Ernie
Estes, Bob
Flesch, Steve
Frazar, Harrison
Furyk, Jim
Gay, Brian
Gillis, Tom
Gogel, Matt
Goosen, Retief
Goydos, Paul
Green, Richard
Harrington, Padraig
Hensby, Mark
Herron, Tim
Huston, John
Jaidee, Thongchai
Janzen, Lee
Jiménez, Miguel Angel
Jonzon, Michael
Karlsson, Robert
Kelly, Jerry
Labritz, Rob
Langer, Bernhard
Leonard, Justin
Maggert, Jeff
Mayfair, Billy
McCarron, Scott
McKenzie, David
Mediate, Rocco
Montgomerie, Colin
O'Neal, Tim
Pampling, Rod
Parel, Scott
Pernice Jr., Tom
Petrovic, Tim
Pride, Dicky
Quigley, Brett
Short, Jr., Wes
Singh, Vijay
Stankowski, Paul
Tanigawa, Ken
Tiziani, Mario
Toms, David
Triplett, Kirk
Weir, Mike
Wi, Charlie
Yang, Y.E.